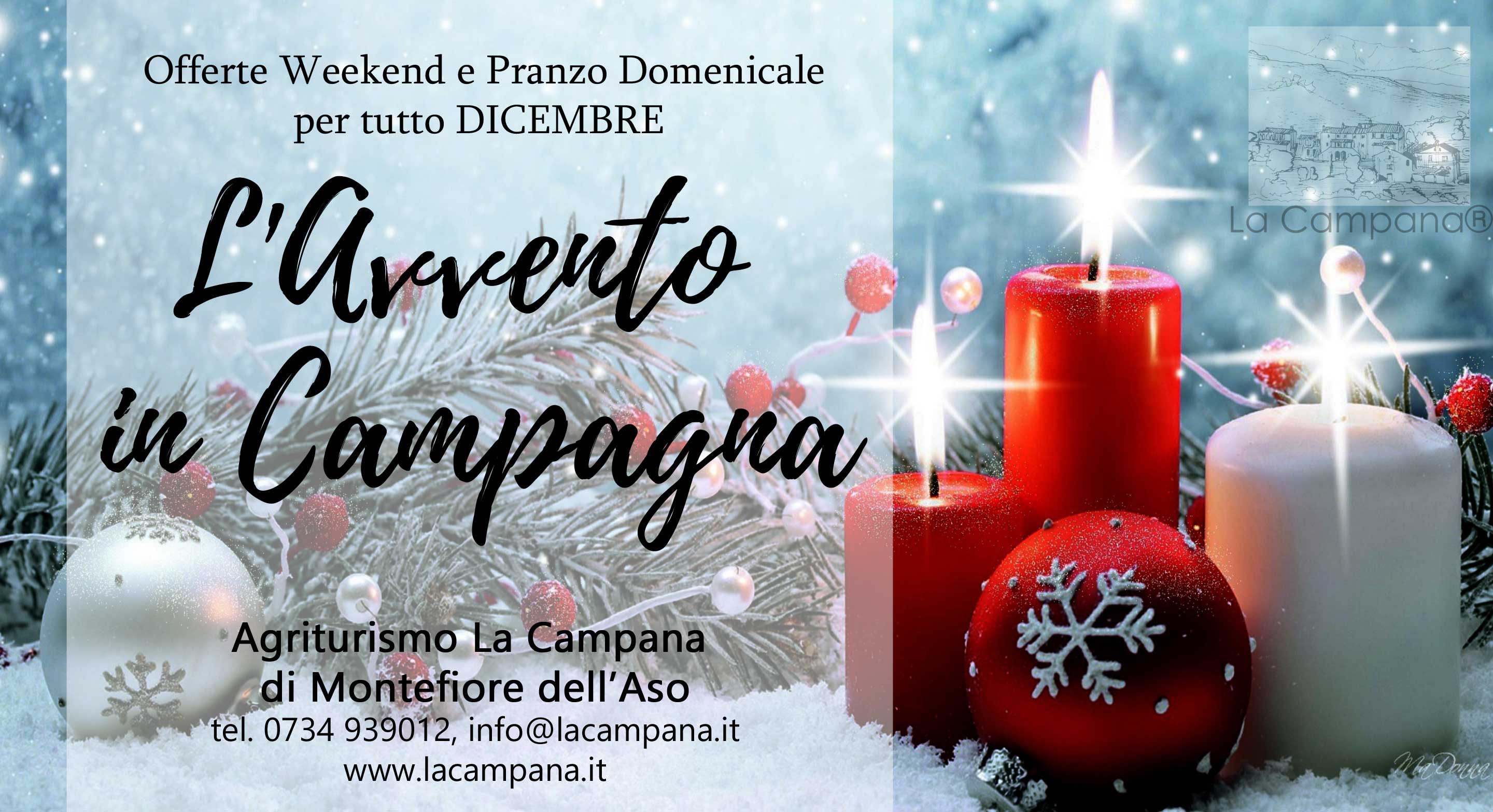 Discovering charming villages, living nativity scenes and delicious festive city. In Piceno and Fermo you will find many events to have fun in your weekend and Christmas fairs where to find the best gifts for your loved ones.
And to feel all the warmth of the Christmas Festivities in the Countryside, every Sunday in December a seasonal theme lunch awaits you at Agriturismo La Campana
information and reservation 0734 939012 e This email address is being protected from spambots. You need JavaScript enabled to view it.
A weekend in the countryside to regenerate from city stress,
discovering the Piceno area
with all the taste of the Holidays!
And here are the 2019 Advent Special Offers
Double room
Two days of Advent in the Piceno: two nights B&Bx2 = 150.00 euros instead of 170.00 euros; HB x2 = 200.00 euros instead of 220.00 euros
Exploring Advent in the Piceno: three nights B&Bx2 = 199.00 euros instead of 255.00 euros; HBx2 = 290.00 euros instead of 345.00 euros
  Children:  
Junior (4/10 years): Two nights at B&B 50.00 Euro; HB 70.00 Euro; Three nights B&B 70.00 euros; HB 95.00 Euro
Baby (1/3 years): two nights B&B € 20.00; HB 30.00 Euro; Three nights B&B € 25.00; HB 35.00 Euro
... And in a quadruple room, offer "Years go by ... but you're always the house chick!". For the youngest child, the basic B&B rate is that of the lower age group.
B&B treatment includes: bed and breakfast.
The HB treatment also gives you the opportunity to have dinner at our restaurant, with a km0 board menu: choice between 2 first courses, choice between two seconds, hot side dish, vegetable buffet and dessert, drinks not included.
 Do you want to stop even on Sunday in December? Here is our Sunday menu
Information and reservation: email This email address is being protected from spambots. You need JavaScript enabled to view it. tel. 0734 939012